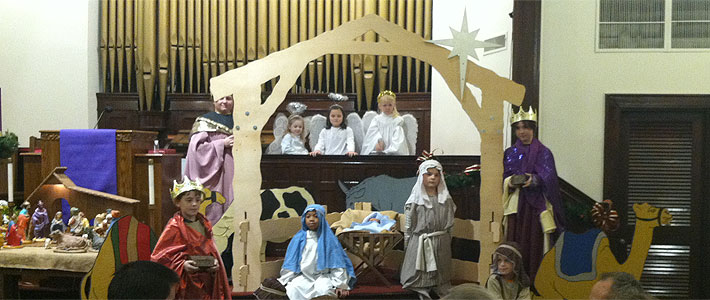 Come Celebrate the Christmas Season at
Algiers United Methodist Church
This is a very special time of year for everyone. Come and celebrate with us and be a part of the magic.
Tuesday, December 5th at 6:30pm is the United Methodist Men/United Methodist Women Christmas Party. All men and women in the church are invited to their annual Christmas party. This is the perfect way to get in the Christmas mood…there will be a Christmas program and carol singing followed by refreshments. Everyone is encouraged to bring a favorite finger food for the buffet table. If you have children, the nursery will be staffed and ready for them. You do not need to be a member of the United Methodist Men or United Methodist Women to participate; everyone is welcome.
Sunday, December 17th at 10:30am is the Annual Christmas Program. The program will begin with the Scott Manzella Band performing New Orleans Style Christmas Carols, so get to church early that day.
Next at 11:00am the choir will perform a selection of songs and the congregation will join in with some of the familiar carols of Christmas. This is a Sunday you don't want to miss. Come out and join us and see the sanctuary as it is beautifully decorated.
Later on Sunday, December 17th, the church will celebrate the season with our annual live nativity, followed by the church's Christmas party in the fellowship hall. This special occasion will begin at 5:30pm, with a reading of the Christmas Story interspersed with carols, and the youth of the church will portray the characters of the nativity scene. Then, we will all join in to sing some of the familiar Christmas songs as we welcome a visit from Santa Claus.
Next up is our Christmas Eve Candlelight Communion service held on Sunday, December 24th at 7:00pm.
Come out and experience these great events.