"And the word of the Lord came to him: "What are you doing here, Elijah?"
He replied, "I have been very zealous for the Lord God Almighty. The Israelites have rejected your covenant, torn down your altars, and put your prophets to death with the sword. I am the only one left, and now they are trying to kill me too."
The Lord said, "Go out and stand on the mountain in the presence of the Lord, for the Lord is about to pass by."
Then a great and powerful wind tore the mountains apart and shattered the rocks before the Lord, but the Lord was not in the wind. After the wind there was an earthquake, but the Lord was not in the earthquake. After the earthquake came a fire, but the Lord was not in the fire. And after the fire came a gentle whisper. When Elijah heard it, he pulled his cloak over his face and went out and stood at the mouth of the cave.  -1 Kings 19:9b-13a
In this text, the prophet Elijah has faced a very discouraging time, and just when it seems things cannot get worse, a natural disaster comes.  Perhaps that is how we feel at times, discouraged from COVID, the economic crisis, division in our nation and quarrels overseas, and here came Ida.  However, I want us to notice something here…. God doesn't lecture Elijah for being unhappy, instead he comes near in a gentle whisper after the natural disasters.  God's whisper is with us now.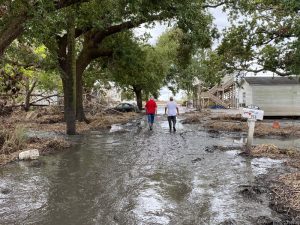 In fact, I have witnessed God's whisper in so many powerful ways after Ida that if I listed them this article might become a short book, so I will only share a few.  First it began with the call from Rev. Mike Morris, a retired elder from the Tennessee Annual Conference.  He called me on 8/30 and shared with me that a group of clergy were going to gather at Bartlett UMC near Memphis to discuss disaster response.  I had not told Mike that I was going to be in the area, but he had noticed the Louisiana plates in the driveway of a family members home.  From there it grew to my car being filled with relief supplies to share when I could return safely.  He doesn't often drive down that street, but somehow he did.  This was the first but nowhere near the last.
I have witnessed God's whisper in the willingness of folk to come from all over and help, not just those who are paid to do so who risk their lives to restore power in gator filled swamps and in heat indexes well over 100 degrees, but in people who use their own vacation time to drive all the way from Kansas and Nebraska to muck out houses and put tarps on the roof.
I have heard God's whisper in the volunteers here at Algiers that have cooked meals, checked on one another or gone down the road to deliver relief supplies.  I have heard God's whisper in the face of a child whose entire face lights up at receiving a box of Cheerios.  Scripture teaches us to accept the kingdom of heaven like a child.  Her face could have lit up the entire point.
I have heard God's whisper in the supplies sent from Pennsylvania, Texas, Florida, Iowa, North Carolina and beyond.  I have heard God's whisper near to the brokenhearted home owner receiving even the smallest bit of hopeful news.
I have heard God's whisper in the sound of volunteers giving hours and hours of work in the name of our church and at our church who previously have never set foot in it, and in the ones who have been here for decades and keep things running behind the scenes.
I have witnessed God working in friends and family comforting the Calligan family and in reaching out to neighbors in need.  Indeed God is in the quiet voice after the storm.  Where have you heard the voice?  Where will you be the voice? God has NOT abandoned us, and if I can help you hear God's voice, please send me an email or give me a call. -Rev. JoAnne
Thanks be to God.

Rev. JoAnne