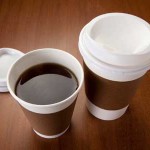 How would you like to have a cup of coffee on a Sunday morning?  You got it! Plenty of good coffee (even decaf) is offered at Coffee Corner in the back of the sanctuary for everyone to enjoy.  All the fixins are there including french vanilla cream too.  Grandma's fresh baked cookies are next to the coffee pot.  But when grandma does not bake, there is genuine store bought cookies too.
Join others at Coffee Corner before worship to meet and sip. Not enough time to finish before the first hymn? Not a problem. Carry your cup with you.  If you run out and need a refill during worship, just return to the Coffee Corner for more.  And, the coffee is waiting for you after the service.
So, come and join in with a trip to Coffee Corner at Algiers United Methodist Church.  Worship starts at 11:00 but coffee is ready long before.  See you for a cup soon!