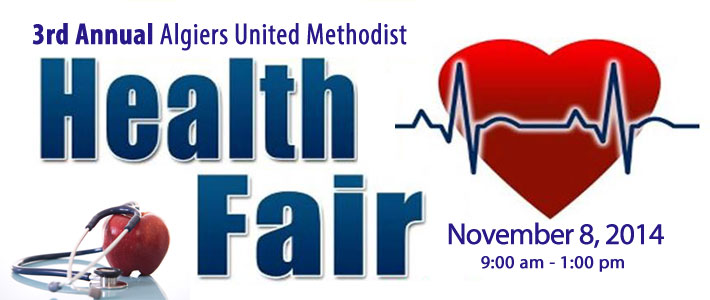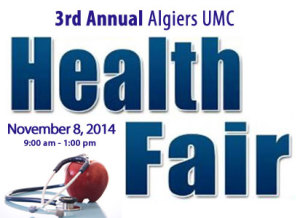 The Algiers United Methodist Church and Common Ground Health Clinic is sponsoring the 3rd Annual Algiers Health Fair.  It is held at the Algiers UMC located at 637 Opelousas Ave in Algiers Point.
It is FREE and Open to Everyone! Saturday, November 8 from 9:oo am to 1:00 pm.
Activities to include: Health Screenings including Confidential HIV testing, Community Resources, Voter Registration, Health Education and Give-Away  of Clothing & Household Items.
Other Highlights are:
9:00 am – Art Therapy with Coach Kaleb Hill of Fitness Fleet
10:00 am –  Mindfulness Meditation with Dr. Nana Anoa Nantambu of Wholey Living Simply Living
11:00 am Reclaiming Birth as a Rite of Passage to Heal OUR Community with Nicole Deggins, Midwife & Birth Advocate
12:00 noon – Cooking Class with Chef Marianne Cufone of Recirculation Farms Coalition & Growing Local NOLA