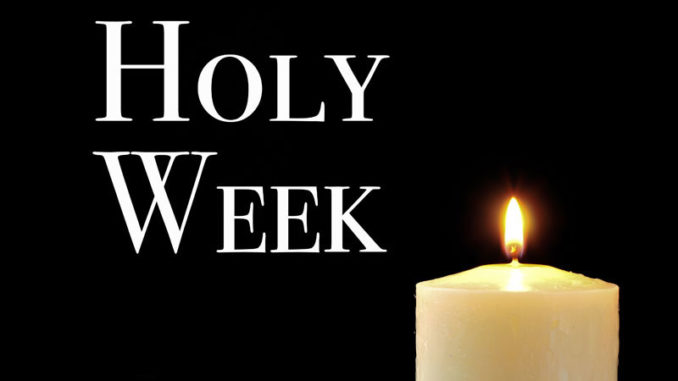 Dear Church Family,
This week we enter into the holiest week for us as Christians – what we call Holy Week, the week that leads up to Christ's crucifixion and death, ending in the celebration of Christ's resurrection on Easter Sunday.
Holy Week is often marked in the church with various special services and gatherings as we tell the story of Christ's last week together and prepare ourselves to receive the good news on Easter morning. However, due to the continued spread of COVID-19 (Coronavirus), we will be unable to gather in person to commemorate and remember these special days.
Even though we will not have our regular Maundy Thursday worship service, this does not mean that Holy Week is any less holy. It simply means that we must be more creative in seeking out ways to reflect upon Christ's final days. Therefore, we have prepared this packet as a way for you to celebrate Holy Week while at home. Beginning Monday, April 6th, you will find in the following pages a scripture passage, devotional, and prayer for each day, along with an optional activity to further your reflection.
I encourage you to set a special time apart each day to read these devotionals, and to perhaps create a sacred space within your home to facilitate a more worshipful state of mind. This space can be as simple as placing a favorite chair near a window or other prayerful location, turning off all electronics to limit distractions, or even just clearing away clutter so that your mind can be solely focused on God.
You may want to consider adding certain items to your sacred space to help facilitate your connection with God, such as a bible, candles (real or battery operated), a cross, a prayer journal, or other items that you find personally meaningful.
Though this continues to be a difficult time for many, I hope you are able to find some comfort in the rhythms of Holy Week as we journey together towards the joy of Easter. Though we cannot gather physically together, we are still spiritually connected by our love of God, and our love of one another.
I pray that you are able to feel the peace of God surrounding you in these coming days, and that you are reminded daily of God's enduring presence and grace.
Grace and peace,
Rev. Colleen