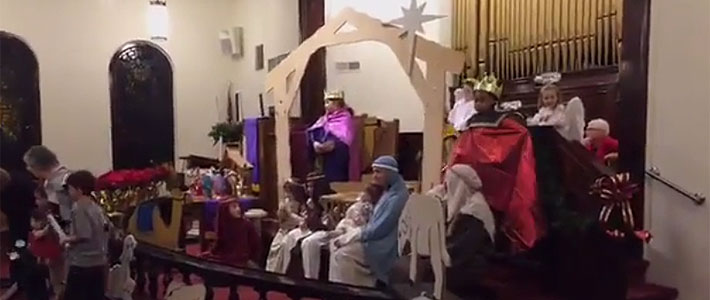 This past Sunday we had a full day of music, worship, family gathering and a visitor from up north.
We also have technology from the present, Evan Davis streamed these event on Facebook live. Thanks Evan!!!
On Sunday December 11, 2016 we had our annual Christmas program during our regular service. The service started 30 minutes early with the sounds of the Manzella Sound Band follow by our choir under direction of Elaine Dishman.
Next we had the live nativity with our children and Christmas carols, and of coarse a special visitor, see 18.30.
Finally to wrap up a full day, we had Cookies with Santa! Everyone was invited to join us in the Fellowship hall for a Christmas party. I will say we had over 40 children and 35 larger children. You larger children know who you are, children at heart.
Do as so many other have done, watch the video and see all the children visiting with Santa. If you listen close you may hear your child telling Santa what they would like for Christmas.