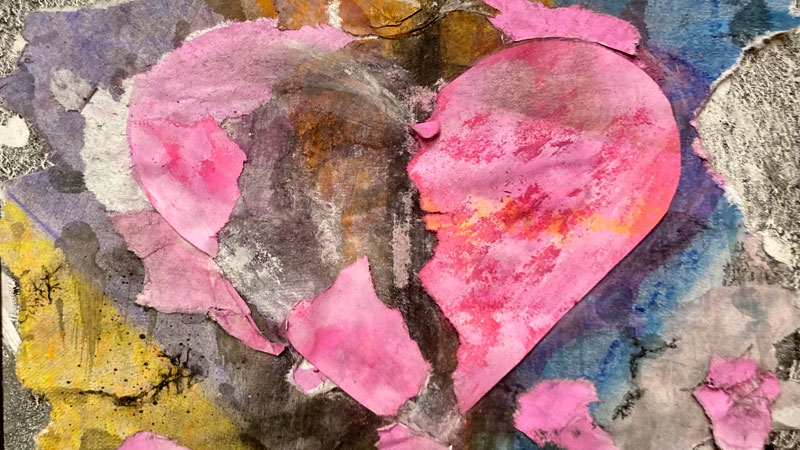 February is the month that so many consider the "month of love."  Since December many store shelves have been filled with heart shaped boxes of chocolate, teddy bears and Valentines Day cards.  Valentines is a day that some find joyful, some stressful, some painful (see the PS for something special for those grieving this holiday) and some are indifferent to.  Love is a vitally important part of life – but not just romantic love – all love is important.  In fact Jesus said in Matthew 22 that all of the law and the prophets depend on love:
"He (Jesus) replied, 'You must love the Lord your God with all your heart, with all your being, and with all your mind. This is the first and greatest commandment. And the second is like it: You must love your neighbor as you love yourself. All the Law and the Prophets depend on these two commands.'" -Matthew 22:37-40
In other words: love God, love neighbor, love self and keep it in the proper balance with God first.  A colleague of mine calls this Love3 or love cubed.  So, February seems a good time to take stock of this matter as individuals and as a congregation – and this, together with completing our annual end of year statistical paperwork (thank you Paul, Julie, Jack, Charlotte, Debby et al for your help) made me think about all the incredibly ways that Algiers UMC loves.  Though I have been here only 7 months I have seen so much love displayed here and see even more opportunities on the horizon.
Algiers United Methodist Church Loves God
These past months in worship we have considered athletic analogies for the faith, echoes of God's sacred love, How God renews, restores and rebuilds us, how God can help us "Reset" and so much more.  Our adult Sunday School Class and Advent Bible Study group have studied God's word.  We taught children about God's love for them especially at VBS and have spent time in worship and prayer.  We had a celebration of Jesus' birth and have gathered at His sacred table. These are just a few of the ways in which we have shown our love for God and can continue, perhaps if you have not joined into adult Sunday School you should give it a try!  Charlotte teaches so faithfully both in person and online.  As we approach Lent in March we will have additional opportunities for worship as we look forward to our Ash Wednesday service on 3/2 at 7pm and Holy Week and Easter services in April.
Algiers United Methodist Church Loves Neighbor
This is one of the things I have been most impressed by with our congregation from the time I was appointed here.  AUMC is certainly "large enough to serve and small enough to care!"  As I was listing out all of the things we did to love our neighbors in 2021 as part of our annual statistical report, I was humbled with gratitude once again to have been sent here.  The Giveaway that helped dozens of neighbors, the teams that we host (we host for the 8th time since Ida next week) who have themselves helped 50 households since Ida, the Angel Tree, the Thanksgiving Baskets, the Winter Wonderland, the Vaccine Clinics, Woldenberg, Mother's Day Out the Prison Ministry, filling the Algiers Point Free Lil' Food Pantry, providing treats for first responders (thanks Peggy)….this list could go on!  Indeed, Algiers UMC loves our neighbors!  All of these are true blessings!  If you have not found your niche, give one a try!  A couple of seasonal opportunities to love our neighbors are coming up with the Souper Bowl Sunday on 2/13 to benefit the United Churches of Algiers Food Pantry (place financial donations in the soup pot after worship or designate online in the comments) plus the upcoming Easter Egg Hunt (more details next newsletter), Porch Sale, helping host relief teams and feeding the college students at NOLA Wesley.
Algiers United Methodist Church Loves Self
This is one of those vitally important things that is not quite as easy to see at first, but it is certainly here.  I see AUMC loving itself when I hear about members and friends checking on one another, praying for one another, dropping off food and supplies for one another and comforting one another in their grief.  Most recently I witnessed it before, during and after the loss of Alice Mayberry, to hear the stories of her life and love and to see the love shared before during and after her service was beautiful both in person an online.  She was an incredible blessing to our church and her spirit remains a part of the DNA of our congregation.  In addition to the beautiful tributes spoken at the service and shared in her service announcement on 1/14 I wanted to share this from Donald Fike from our church's Facebook Page:
"The statement above, "… (Alice). is still deeply loved by our congregation" is absolutely, 100% true!  I moved away from the Algiers United Methodist Church 17 years ago but have continued to miss Alice to this day!  Her musical talents are unmatched!
Beginning at age 12, I've sung in church choirs for 70 years in a dozen churches and in 4 states and have never seen or heard an organist with talents even close to equaling Alice's.  While listening to Alice play a simple hymn, I was often so emotionally moved that I stopped singing to listen to the music and focus on the words with tears in my eyes!  This happened to me in my life only while listening to Alice play!  I've always considered my time spent in that little choir as one of life's greatest blessings.
In addition to her unmatched musical talents, Alice was one of the sweetest, most loving people I've ever known!  She was truly one of our Lord's greatest examples of what he would expect of each of us but few will ever reach her level!
Nothing that I could say would come close to expressing my love for this wonderful lady and her music.  Not even close!
While Alice is gone from this world, I'll forever carry a piece of this lady in my heart!"
Algiers United Methodist Church certainly does love itself too, which is a good thing.  One other way of loving ourselves is in preparing for the 100th Anniversary Celebration of our Sanctuary.  We hope you will take the time to join us in person or on Facebook Sunday, March 27th at 11am.  Rev. Becky Conner will be preaching and Rev. Ray Varnado, Rev. Colleen Bookter and Rev. Walter Parker all plan to join us that day as well.  We are looking for some to help with the event, specifically with invitations, set-up and planning a possible lunch afterward.  If you are interested in helping, please let us know.  That is one way of loving ourselves.
In this "month of love" I want to encourage us to explore and celebrate the ways in which we as individuals and a congregation love God, love neighbor and love self and encourage ourselves and each other to continue these even as we strive to grow more loving along the way.

-Rev. JoAnne
P.S. As promised, here is a little something extra for those who grieve this Valentines Day –remembering that God is near to the brokenhearted (Psalm 34:18).  I pray it blesses you and helps bring you piece as it has many others.  Also, please feel free to call on me if I can pray or listen:
Blessing for the Brokenhearted
BY JAN RICHARDSON
There is no remedy for love but to love more. – Henry David Thoreau
Let us agree for now
that we will not say
the breaking
makes us stronger
or that it is better
to have this pain
than to have done
without this love.
Let us promise we will not
tell ourselves time will heal the wound,
when every day our waking opens it anew.
Perhaps for now it can be enough
to simply marvel at the mystery
of how a heart so broken can go on beating,
as if it were made for precisely this –
as if it knows the only cure for love is more of it,
as if it sees the heart's sole remedy
for breaking is to love still,
as if it trusts that its own
persistent pulse
is the rhythm
of a blessing
we cannot
begin to fathom
but will save us nonetheless.
(Another great resource for grief is the song "Scars in Heaven" by Casting Crowns)