"Happy New Year!" These are the words that are shouted each year as the ball drops in New York and the Fleur De Lis Falls in our own Jackson Square. "Happy New Year!" For decades I heard these words as words of hope, as I considered or cemented my new years resolutions. Yet, so often new years resolutions to make major changes to ourselves just don't work, and with 2020 and 2021 being especially challenging we may be concerned that 2022 will just be "2020 too. Oh. No!" In the book of Lamentations, we find 5 poems written after the destruction of Jerusalem in 586 BCE. It is an emotional account beginning with ancient words perhaps most equivalent to the modern "Oh. No!" I chapter 3 we find these words:
"My soul is bereft of peace; I have forgotten what happiness is; so I say, 'Gone is my glory, and all that I had hoped for from the Lord.' The thought of my affliction (…) My soul continually thinks of it and is bowed down within me."
-Excerpts from Lamentations 3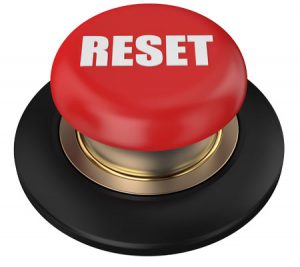 Like a phone call that doesn't connect, or a website that doesn't load, sometimes, especially after extended periods of challenges, we can get caught up in thought circles that don't allow us to move forward—just as this ancient writer was stuck in a negative feedback loop. What are we to do? What would it be like if we could reset our lives, our focus in a similar way in which we can reload a website, restart a computer, or hang up and try that call again? Would that bring us hope and refresh us as we strive to live into God's purposes in this life? Let's see what the writer of Lamentations says:
"But this I call to mind, and therefore I have hope: The steadfast love of the Lord never ceases, his mercies never come to an end; they are new every morning; great is your faithfulness. 'The Lord is my portion,' says my soul, 'therefore I will hope in him.''
-Lamentations 3:21- 24a
Beginning on the second Sunday in January (1/9) I invite you to join us in worship and in readings (see attached suggested schedule) that encourage us to "Reset." Let's claim the fresh start God makes available to us as we rediscover our true identity in the love of God, explore our purpose and guided by the compass of God's values, head off into exciting God-given directions! Let's "Hit the Reset Button" together!
Week 1: Soul Reset (1/9-1/15)
Sunday – Luke 3:21-23
Monday – Matthew 3:13-17
Tuesday – Mark 1:9-11
Wednesday – John 1:29-34
Thursday – Revelation 21:5
Friday – 2 Corinthians 5:17
Saturday – Jeremiah 29:11
Week 2: Reset Purpose (1/16-1/22)
Sunday – Mark 1:32-39
Monday – Matthew 4:1-11`
Tuesday – Mark 1:12-15
Wednesday – James 4:8-10
Thursday – Matthew 14:23
Friday – Matthew 6:33
Saturday – Psalm 119:115

Rev. JoAnne