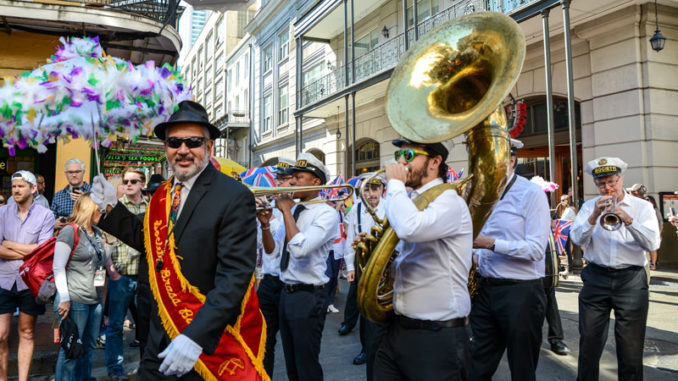 From your pastor…
So I commend enjoyment, for there is nothing better for people under the sun than to eat, and drink, and enjoy themselves, for this will go with them in their toil through the days of life that God gives them under the sun. – Ecclesiastes 8:15
For the almost ten years that Adam and I have been together, we've always said that we wanted to live in New Orleans. We've always loved the food, the culture, the people – really everything about being down here. So we were SO excited when we found out that the bishop anointed our family to Algiers. And this city has not disappointed! We've gained weight from the food, soaked up the culture and history, and enjoyed getting to know the people – not only in the congregation but also in this neighborhood.
We've also enjoyed how life seems to be a party down here. And coming off of Mardi Gras season, I can say that has certainly been the case. Now that we are heading into Lent, and talking about giving things up or taking on new spiritual practices, it seems like the party is coming to a close. But lucky for us, this season of Lent isn't all about sackcloth and ashes. Not only is every Sunday in Lent set aside as a "little Easter celebration," but we also have a big celebration coming our way.
We are celebrating our 175th Anniversary here at Algiers United Methodist Church on Sunday, March 29th. We will give thanks for the 175 years that this congregation has baptized babies, the 175 years that this church has welcomed new members, and the 175 years that this congregation has served the needs of this community.
By gathering together to celebrate this momentous occasion, we will honor those who gathered at this altar rail to say I do, as well as those whose funerals were held in our sanctuary. Our presence will be a testament to the continuing legacy of this congregation –the continuation of forming mission-minded followers of Christ.
Join us on Sunday, March 29th in worship at 11am and for our potluck lunch following worship. If you are interested in helping in the celebration in anyway (making a slide show, helping with decorations, providing food, advertising for this event, sending letters, etc.), please email me at revbookter@gmail.com or sign up at the Welcome Table in the sanctuary.
Come celebrate the legacy of our church and its bright future! Cheers to 175 years more!
Grace and peace,
Rev. Colleen