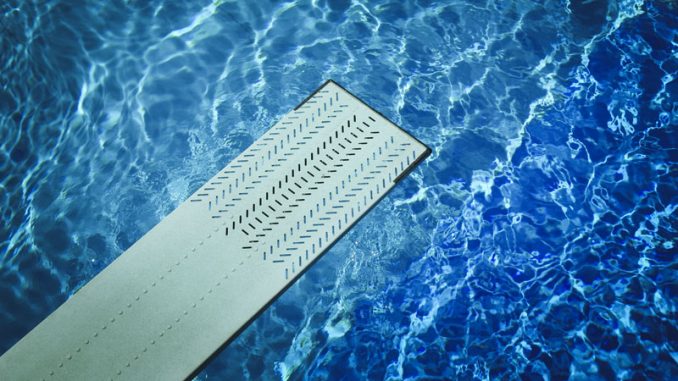 "For God has not given us a spirit of fear and timidity, but of power, love and self-discipline." -2 Timothy 1:7
One summer when I was a little girl my mom took to take swimming lessons.  I am not entirely sure why, but I was a little afraid of getting in the water, so I resisted.  In fact, I resisted so much that even though she had paid the money, taken me to class, and gotten me into the shallow end of the pool, I refused to learn how to swim.  Yet, she persisted, enrolling me again and telling me she would keep doing so until I learned to swim.  I really didn't like that idea, so, I decided I would learn, but after that final, scary test, of jumping off the diving board into the deep end and swimming all the way to the far edge by myself it would be no more swimming for me.  However, as mom persisted in making me go and I practiced the self-discipline necessary to learn to swim.  Something wonderful happened.  I not only learned to swim, but also overcame my fear and grew to love swimming–so much so that the next summer mom had a terrible time getting me out of the pool.
These concepts of persistence and fear are what are planned to shape worship at AUMC this March.  First, as we observe the holy season of Lent, I want to invite you to consider what life would look like if we gave up our unnecessary fears.  What would happen if we let go of the extra fears and embraced instead power, love and self-control?  What unexpected joys would we find.
This Lent we will be encouraged to examine our fears and lay any excess ones aside and to reflect upon the ways in which we have as a congregation and as individuals overcome fear and persisted in the power and love of God while utilizing self-control.  We want to continue positive patterns. Here are some things we have to look forward to in March:
February 28 – March 4, 2022 – Mothers Dayout in on Mardi Gras Break
March 2, 2022 7:00 pm Traditional Ash Wednesday Worship in the Sanctuary: "When Fear Takes Control"
March 6, 2022 10:00 am Adult Sunday School in the basement and on Zoom
March 6, 2022 11:00 am First Sunday in Lent: "The Role of Fear" in the sanctuary and on Facebook
March 8, 2022 7:00 pm Church Council Meeting in the basement and on Zoom
March 10, 2022 10:30 am Worship at Woldenberg Nursing Home—if you would like to volunteer, please contact Rev. JoAnne
March 12, 2022 9:00 am-Noon: Spring Clean-Up Day – indoor and outdoor volunteers needed
SPRING FORWARD CLOCKS on the night of March 12, 2022
March 13, 2022 9:30 am Breakfast in the Basement—sponsored by the Men's Group (if you would like to help cook, come at 8:30am)—Donations benefit the Men's Group
March 13, 2022 10:00 am Adult Sunday School in the basement and on Zoom
March  13, 2022 11:00 am Second Sunday in Lent: "The Fear of Others"
March 15, 2022 Deadline for submissions to be included in March Prison Letter
March 20, 2022 10:00 am Adult Sunday School in the basement and on Zoom
March 20, 2022 11:00am Third Sunday in Lent: "Fears Within Ourselves"
PLEASE ALSO BRING FRAMED PHOTOS FOR DISPLAY ON ANNIVERSARY SUNDAY
March 20, 2022 12:00 pm Prison Ministry Group—Interested Adults Welcome—in basement after church
March 26, 2022 Possible set up for Anniversary Sunday
March 27 11:00 am 100th Anniversary of the Dedication of our Sanctuary Celebration in Sanctuary and Online
Outdoor Lunch to follow
Note:  The Annual Treasures from the Point Garage Sale will be held the first weekend in April.  If you have items to sell, please bring them on Sundays before or after worship, or on Mondays, Tuesdays or Thursdays from 9am – Noon (except Mardi Gras Week).  If you have a donation that you need help transporting or need to drop off at a different time, please call the church office at 504-361-1334.
This Lent, let us persist in all that is good, living lovingly—empowered by the Spirit that God has placed within us, one of power, love and self-control.

-Rev. JoAnne