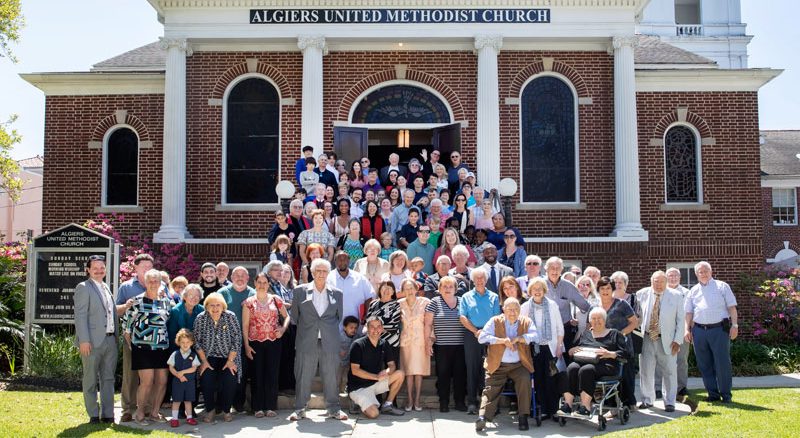 It was a celebration two years in the making.
Algiers United Methodist Church had planned to celebrate its 175th Anniversary in late March of 2020 and had made significant preparations; however, the celebration was postponed after COVID, and planning was delayed following Hurricane Ida.
Realizing that the 175th anniversary had come and gone, church leaders decided to focus on the 100th anniversary of the consecration of the sanctuary, which occurred in March of 1922.
"As a part of today's worship service, we want to celebrate some of the legacy created in this space," Rev. JoAnne Pounds said during the service. "As you look around the room on the altar rail and piano, you will see memories of some of our happiest and proudest moments. You will see wedding and baptismal certificates, photos from youth group events, choir parties, and so much more."
"We are a congregation that has grown to be a place that members of this community can turn to in many life situations, whether searching for childcare, a fun community event, certain types of medical care, scripture study, free garage sales, food or a church home, this is a great place to be," Rev. Pounds said. "Our congregation is growing in diversity and aspires to be a place where the words of our banner are lived out every day…' all loved, all welcome, all affirmed, all ways, always.'"
Rev. Pounds was also quick to acknowledge a moment in the history of Algiers United Methodist Church that would rather be forgotten.
In the summer of 2020, a group of Algiers members formed a Diversity Task Force and began studying racism within both the local and global church. During that time, members came across an article in the New Orleans newspaper that highlighted the consecration of the sanctuary. Part of the headline read: Donation of $100 Received from Ku Klux Klan.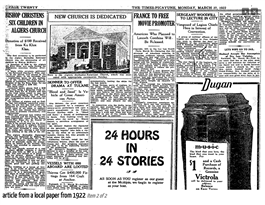 Sarah Waits, who chairs the Diversity Task Force, said, "While that was a different time and space, white supremacy was never a part of who God has called us to be."
In today's service, Waits and Rev. Pounds announced that a donation of $1,675 has been committed for the next twelve months, with monies being donated to organizations that strengthen people of color and work to eradicate racism.
"That number is not random," said Rev. Pounds. "We chose this amount because adjusted for inflation, $100 from 1922 would equal $1675 in today's money. It's our pledge to continued growth and recognition that every person is created in the image of God."
The newspaper article described the donation from the KKK as being delivered to the pastor of the church in 'a single white envelope'. Today, Rev. Pounds handed a single white envelope to Lyndon Jones, founder, and director of About F.A.C.E., About Family and Community Engagement, an organization that creates pathways for individuals and families to be more productive in their communities.
"Lyndon is an active member of our congregation," said Rev. Pounds. "And we are so honored to be able to support an organization that was started right here in Algiers."
Waits then led the church in prayer, saying, "Holy God, we thank you for faithfully leading this congregation for nearly two centuries, including the past 100 years in this sacred sanctuary. We thank you for baptisms, confirmations, weddings, music, laughter, and love. We praise you for lives well lived that have been celebrated here and thank you for the gift of your grace freely offered to us when we have turned from your will. Lord, grant us your wisdom that we will grow more loving and more pleasing to you in the coming years. Shape us into who you have called us to be: a loving, diverse people bearing your image in this neighborhood, city, and world glorifying your name above all else. Amen."
"This congregation will not be defined by gifts received from white supremacist organizations in the community who seek to exclude," said Rev. Pounds. "But by the way we give back to our community – a diverse, beautiful, inclusive community of God's Children here in Old Algiers."
And in New Orleans, there seemingly must always be a unique musical offering, and Algiers did not disappoint as they sang We are The Church, with unique lyrics designed just for today and set to the tune of Leonard Cohen's "Hallelujah".
Some of the lyrics, by Elaine Dishman, Algiers music director, included:
Ev'ry one is welcome here to share the word of God.
We live and learn together in God's love.
Many preachers have come our way,
Remember Andy, Walter, and Ray;
then Becky, Colleen, and now we have JoAnne.
Hallelujah! Hallelujah! Hallelujah! Hallelujah! We're still here!
And then came Covid!
No in-person service; had to watch church on T.V.
Had to sit 6 feet apart; had to wear a mask;
No singing; no lunches; no coffee fellowship;
The time has come.
… Now we're back!
---