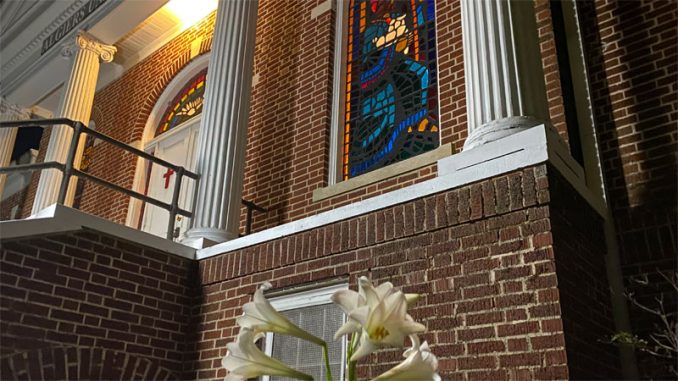 "When the Lord changed Zion's circumstances for the better, it was like we had been dreaming. Our mouths were suddenly filled with laughter; our tongues were filled with joyful shouts. It was even said, at that time, among the nations, "The Lord has done great things for them!" Yes, the Lord has done great things for us, and we are overjoyed. Lord, change our circumstances for the better, like dry streams in the desert waste! Let those who plant with tears reap the harvest with joyful shouts. Let those who go out, crying and carrying their seed, come home with joyful shouts, carrying bales of grain!" -Psalm 126
Happy Easter! It is my hope and prayer that you had a wonderful Easter Sunday and blessings throughout this season in which we continue to celebrate until Ascension Sunday. For many of us this Easter has seemed to bring an end to a Lenten Season that seemed more like 2 years than a little under two months. Much of what was lost has been restored and we are back to a busy calendar.
As I reflect upon the month of April and this season of resurrection, we saw some traditions of the church restored, some newer ones continued and some become a mix of pre-pandemic, pandemic and prayerfully post-pandemic life. We are back to sharing coffee on Sundays, celebrating Easter Egg Hunts, choir singing and participating in Treasures from the Point. We continued the tradition of Easter Sunrise with two new-to-NOLA clergy leading alongside one who already called it home, helped feed the hungry, taught precious little ones about Jesus in a safe environment, led worship at Woldenberg, celebrated Maundy Thursday, gave treats to the first responders, sent financial assistance to a shelter for Ukrainians (as approved by the Church Council) mailed letters to the prison and continued with our vaccine and testing opportunities. We also had a presence at the Interfaith Celebration of Earth Day. Our project of raising funds for diversity as announced at our anniversary service really took off. It was a wonderful and super busy month. (THANK YOU TO ALL OUR AMAZING VOLUNTEERS!)
As we enter into May we look forward to the return of Joy Club (Wednesday, May 4th at 11:30am-suggested donation $8), a Mother's Day Breakfast (9:30am Sunday, May 8th—suggested donation-$5), Memorial Day, and hopefully a celebration of our 2020-2022 graduates on May 15th (if you know of a graduate from 2020, 2021, 2022 to add to the list, please let us know). We have much to look forward to with Vacation Bible School in the works!
Let us remember to thank God for every good gift and remember to pray for all in need or struggling during these days.