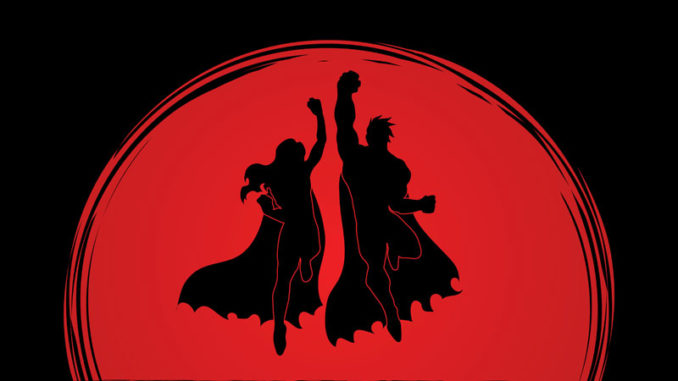 From your pastor…
As God's chosen ones, holy and beloved, clothe yourselves with compassion, kindness, humility, meekness, and patience. Bear with one another and, if anyone has a complaint against another, forgive each other; just as the Lord has forgiven you, so you also must forgive. Above all, clothe yourselves with love, which binds everything together in perfect harmony. And let the peace of Christ rule in your hearts, to which indeed you were called in the one body. And be thankful.
-Colossians 3:12-15
There's nothing like Halloween. I mean, it doesn't get better than dressing up as your favorite character from your favorite movie or a superhero or … you name it, the sky's the limit. Imaginations run wild not only on Halloween, but on the days, the weeks, and possibly even the months leading up to it. You dream up what you want to be and then make it a reality.
Need a little magic in your life? Harry Potter or Hermione Granger it is. Sick of being human? Try being a dinosaur or a baby pea pod. Feeling worn down by the back-to-school routine that has set in and the lists of things that never seem to get done, maybe this is the year to clothe yourself in red, yellow, and blue – with a "S" on your chest and your undies on the outside of your pants or with a "W" on your chest and wrist wraps on your arms.
There's nothing like getting dressed up as something great! And there's nothing like watching the pure joy of people dressed as something they really want to be. My nephew Henry wore a huge smile as he put on the same astronaut outfit four years in a row – until the legs of the "space suit" barely reached past his knees. But he was enamored with the idea of putting on astronaut clothing. We often hear that you can be anything that you want to be, but never is it more true than on Halloween.
Halloween brings a lot with it – costumes, candy, decorations, and sugar-highs. At this time of year, there is often a mix of emotions. There's excitement about the upcoming holidays – Halloween, Thanksgiving, and Christmas – but also a mix of dread about all the extra events that get piled onto an already busy schedule during the holidays. It is a fun and sometimes challenging time to navigate. But my hope is that we remember that God has called us to put on Christ – to clothe ourselves in compassion, kindness, humility, meekness, patience, and most importantly love.
Our Halloween costumes come off after October 31st, but it is what we put on all year long that matters most. And as any parent, or really anyone who has tried to make a costume knows, there is nothing easy about making a costume. Putting it on, that is the easy part. It's the preparation that's hard. So before the wave of holidays begin, let us make preparations – let us aim to get the sleep we need so that we have energy enough to put on patience in the middle of rush hour. Let us store up the hugs we receive from others so that we have compassion to share on the difficult days. May we clothe ourselves in Christ!
Grace and peace,
Rev. Colleen