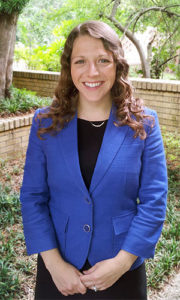 Rev. Colleen Bookter received her calling to ministry while working at a domestic violence shelter in college. She has a heart for missions, social justice, and making sure there is room for all of God's children at the table.
Colleen graduated from Rhodes College in 2008 where she studied History and Gender Studies. After working for a few years, she went to Duke Divinity School where she received her Master of Divinity and a certificate in Gender, Ministry, & Theology. She is an ordained elder in the United Methodist Church and served as the associate pastor at University UMC in Baton Rouge from 2013-2018. During 2018 and 2019, Colleen worked with the UMC General Board of Global Ministries serving with the Asian Rural Institute in Japan, Prasiri UMC in Thailand, and Cienaguita UMC Community Center in rural Panama. In July of 2019 she became the pastor at Algiers UMC, and she couldn't be more excited to serve here!
While in seminary at Duke, Colleen met her husband, Adam Darragh. They married right after graduation. Adam and Colleen share a passion for travel, a desire to learn more about other cultures, and an appetite for delicious food. Colleen also fancies festivals and parades as well as greatly enjoys the company of family and friends.
Please take time to listen to here messages, either to the congregation or to the children, you will enjoy her message.