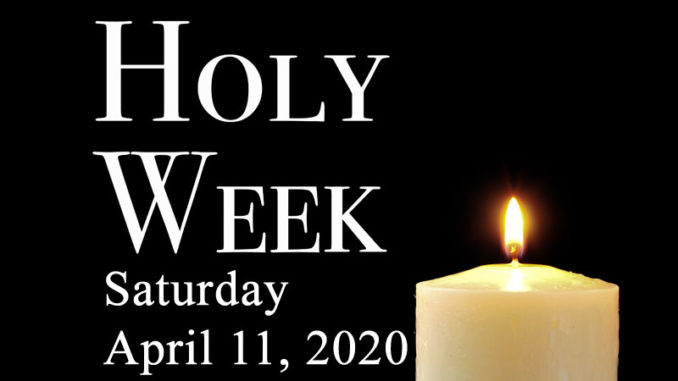 Scripture – Matthew 27:57-66
This is a difficult day in the Holy Week narrative: Christ has died, and for the disciples it would be three long days before he would rise again. For us this time of waiting is compressed into one single day, Holy Saturday, but this time between the darkness of Good Friday and the promised light of Easter Sunday can still feel long and difficult.
For many of us, this present time we are living in with the Coronavirus pandemic feels a lot like an extended Holy Saturday. The disciples grieved the death of Jesus, even though they knew he had promised to return, they were unsure if that would really happen, or when it would take place. Those in-between days for them were not only a time of waiting, but also a time of deep unknowing and doubt.
Similarly, we too find ourselves now in a time of waiting – in a time of deep unknowing and doubt. Life as we have known it has been turned upside down on its head, and we are unsure when things will be righted again.
Though at times we may want to, we cannot celebrate the joy of Easter morning without first passing through the pain of Holy Saturday. Instead, we are called to use today as a time of silence, a time of waiting, and a time of grieving for what has been lost.
Dear God, it can be so hard for us to rest in the not-knowing. We long for the hope of Easter, yet find ourselves living in the despair of Saturday. God, help us to find You in the midst of this present darkness; help us to know that this, too, shall pass. Give us the strength, God, to continue placing our trust in You. Amen.
Activity Suggestion
Today, allow yourself the space to grieve for what has been lost during this season of waiting in the unknown.
Make a list of all the things you have had to miss or you have not been able to do because of shelter-in-place orders. Perhaps you have had to cancel or change plans, causing you to feel sadness, anger, frustration, or disappointment.
Know that it is ok, and perfectly understandable, to feel these feelings. Let yourself grieve over the things lost, the opportunities missed, and then tuck that list away. Turn your heart to God, and ask God to help you find peace in the new stillness of this time at home. Finally, take comfort in the knowledge that Christ's story did not end on Holy Saturday, and ours does not either.